Hey Everyone –
I'm incredibly excited to announce that our 2017 website is now live!
We did our best to redesign the site to better capture the heart of the organization and to fulfill the wants and needs of our core users. Overall, the site has been visually reworked, but many of the useful features of the previous site, like horse listings, remain essentially the same.
Everything has been built with the 2016 Digital Report in mind – simplicity, beauty, and ease of navigation. For reference, you can see the 2016 Digital Report here. No CANTER funds or general donations were used to build the site. All software and coding work was 100% donated to CANTER for this specific use.
I want to send a big thank you to CANTER PA volunteer Valerie Buller for the use of her amazing images. As you'll see, they add some incredible emotion to the site. You can see more of her work on her website and on the CANTER PA Instagram.
We would love to hear what you all think – click here to rate the new site. If you experience any issues, or have any direct questions or comments, feel free to email me at jake.faulstich[at]canterusa.org.
Thank you all for taking part with us to change the lives of Thoroughbreds across the country.
– Jake Faulstich | VP, Technology | CANTER USA
New Features of the 2017 Website Update
Simplified Navigation
As you'll see, all pages have a simple single top navigation with no mega dropdowns like before. All are simple key areas of interest with one overflow option that allows for a dropdown of more items. The site footer will now remain consistent across the entire site. See it.
Updated Visual Design
Most key pages of the new site are designed to be full screen width to provide a more immersive experience and offer more room for images and information. Titles, buttons, fonts, etc. all got a rework as well to look more modern and be easier to understand. Everything has also been optimized for sharp and clear viewing on Retina and high-res screens. See it.
Horse Home Page
Horse listings have been moved into their own 'site' experience offering more flexibility to navigation and styles. This site has a specific home page offering different information including recently listed horses, a listing map integrated with Google Maps, and an affiliate list. See it.
Horse Search Drawer Modal
The horse search functionality has been moved from 'on page' to a new modal experience that slides in over any page the user is on in the horse site. Simple click the search button in the top navigation.
Affiliate Sites
Like the USA site, CANTER Affiliate sites have been overhauled. Each Affiliate now has one main core home page that features most or all of their information. The main navigation for each affiliate will anchor link to specific areas of this main page. See it.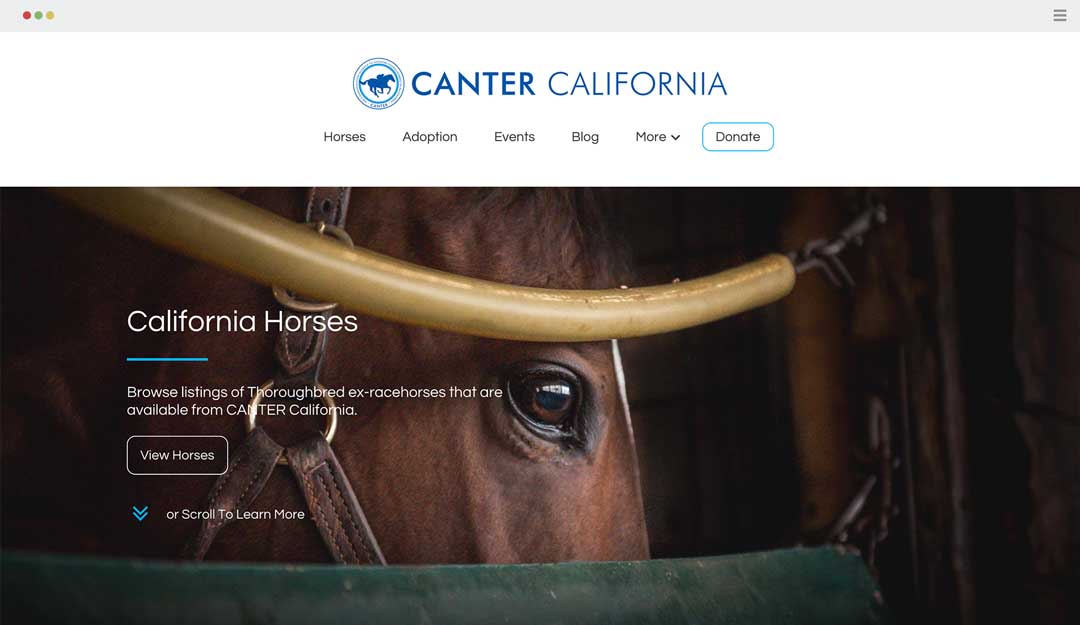 Elegant Blogs
The blog layout has been re-worked to strip out the side bar and pull the content to a larger width making the images really stand out. See it.
Google Forms
CANTER is now 100% synced with Google Forms. All Contact and Adoption Approvals forms now open up in easy to use Google Forms.