Colorado Horses
Browse listings of Thoroughbred ex-racehorses that are available from CANTER Colorado.
Horse Adoption
Adopting a horse through CANTER is a 5 step process.
Click on one of the steps to learn more.
Resources
Click on a button below to find resources to help you in finding, adopting, and caring for Thoroughbred ex-racehorses.
CANTER could not do any of it's amazing work without you!
CANTER exists solely on donations and volunteers. Every dollar and hour donated goes to help these horses get proper medical care, a comfortable place to stay, a full belly, and tools to speed the transition from track life to their new careers.
CANTER is a 501(c)(3) Tax Exempt Non-profit organization; your donations are tax deductible.
Donate
to CANTER Colorado
and help Thoroughbred athletes transition to their new lives.

We need you!
CANTER is a 100% volunteer organization and is always in need of volunteers to help retiring Thoroughbred racehorses transition into new careers.
Contact us to learn more about how you can help!
About Us
CANTER Colorado officially launched in 2008 but had a difficult time getting the trainer listing program off and running.  It wasn't until 2012 with the help of some key volunteers and trainers on the backside that allowed us to begin taking horse listings.  We listed nearly 100 horses for sale that first summer, and through our network, we helped find over 60 horses new homes.
At the end of 2013 meet, Arapahoe Park in partnership with The Colorado Horseracing Association (CHA) recognized the work we did with a $10,000 donation to our organization.
Our success with the trainer listing program enabled us to offer the horse community an additional service in 2013.  We launched the CANTER Colorado aftercare program, allowing trainers/owners to donate their horse to our organization.  We are committed to rehabilitating, retraining, and rehoming each horse in our program. Every horse has a customized care plan established by our team of veterinarians, farriers, trainers, and volunteers that will help position the horse into finding the best new home and career after racing.
The support for CANTER from the Colorado horse racing community continues to grow.  In 2014, CANTER was once again the organization of choice to receive a donation at the end of the meet from Arapahoe Park and CHA.  We took in more than 5 horses off the track in 2014 including a cryptorchid stallion.  With our help, we were able to geld the horse and increase his chances of finding a new home.
In 2015, Arapahoe Park and CHA paired with CANTER Colorado and The Retired Racehorse Project to find Colorado's Most Wanted Thoroughbred.  Arapahoe Park and CHA sponsored the event at the 2015 Rocky Mountain Horse Expo. This special event help shed the light and increase the demand for thoroughbreds after racing.
CANTER Colorado continues to participate in special events both locally and nationally that promote thoroughbreds in careers off the track.  One of our newest residents, Sweetpeacefuledream (SweetPea) is currently in training and will be shown off in Kentucky at the 2015 Thoroughbred Makeover Event, put on by The Retired Racehorse Project.
Jamie Girouard, Executive Director
CANTER Colorado
7586 S. Williams St.
Centennial, CO 80122
CANTER Colorado has 2 dedicated programs helping retired race horses.
Our CANTER Owned Program:
As an additional service, we offer owners/trainers the opportunity to donate their horse to  our aftercare program. CANTER assumes all ownership and financial responsibility of the donated horse. Working with a dedicated team of veterinarians, farriers, professional trainers, and volunteers, each horse is provided with a customized plan of action that includes: relaxation, rehabilitation, and retraining services. When ready, CANTER finds new homes and careers suitable for each horse based on their potential, needs, or limitations. Horses are sold with a CANTER adoption contract after thoroughly screening potential buyers. Our program ensures  each horse obtains the marketable skills they need to find a new home and career.
Our Trainer Listed Program:
The listing program is a free service offered to the horse men/women at the track who want to sell their retiring race horse. Volunteers work closely with trainers/owners on the backside of Arapahoe Park taking pictures, videos, and biographies of any horses for sale. The information is posted on our website and promoted to a national pool of equestrian buyers. CANTER is not involved in the sale.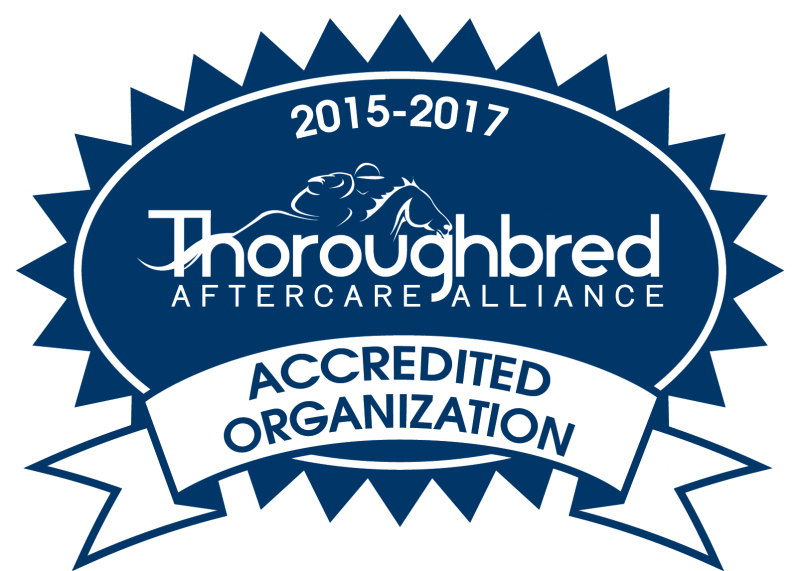 CANTER Colorado is Accredited by the Thoroughbred Aftercare Alliance (TAA)
CANTER Colorado has officially been accredited by TAA! This means that we have met the highest level of industry standards for Thoroughbred care, operations, rehabilitation, retraining, and re-homing services.  We are proud to be the only accredited thoroughbred organization in Colorado!
Our Partners
BUILD-A-BEAR WORKSHOP
We would like to Thank the Build-A-Bear Workshop for their support in 2013 of our buildabear Thoroughbred aftercare program. Build-A-Bear, helps bring a child's favorite stuffed animal to life. This wonderful organization has many programs that support the community. A dollar from every sale of the Bearemy's Kennel Pals goes towards helping animal welfare, rehabilitation, rescues, and therapeutic and educational programs.
Learn more here: www.buildabear.com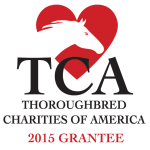 THOROUGHBRED CHARITIES OF AMERICA
Thanks to the Thoroughbred Charities of America (TCA) for supporting our Aftercare Program in 2014! 2014-Grantee-Logo.jpgThis funding will help us expand our program to reach more horses and/or to help with the expenses associated with special needs and more intensive rehabilitation cases. TCA raises and distributes money to charitable organizations in Thoroughbred rescue, retirement and adoption; research; backstretch and farm employee programs; and therapeutic riding programs.
More information here: www.tca.org

COLORADO UNWANTED HORSE ALLIANCE
A Special Thank you to The Colorado Unwanted Horse Alliance (CUHA) for their continued support since 2013! This organization is dedicated to helping alleviate the horses from becoming unwanted in the state of Colorado.
Please visit their website for more information.