Michigan Horses
Browse listings of Thoroughbred ex-racehorses that are available from CANTER Michigan.
Horse Adoption
Adopting a horse through CANTER is a 5 step process.
Click on one of the steps to learn more.
Resources
Click on a button below to find resources to help you in finding, adopting, and caring for Thoroughbred ex-racehorses.
Events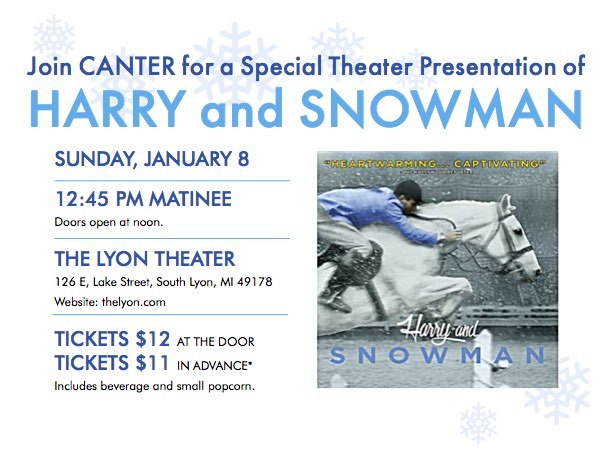 Retired Racehorse Project
Retired Racehorse Project (RRP) is a nonprofit organization promotes off-track Thoroughbreds for multiple equestrian sports.
See the results from this year's Thoroughbred Makeover and check out the winners. Lauren Turner and Fairway King win the title of 2016 America's Most Wanted Thoroughbred!
http://www.retiredracehorseproject.org/2016-makeover-results-and-scores
For more information contact:
Steuart Pittman
steuart@retiredracehorseproject.org
410-507-3351
CANTER could not do any of it's amazing work without you!
CANTER exists solely on donations and volunteers. Every dollar and hour donated goes to help these horses get proper medical care, a comfortable place to stay, a full belly, and tools to speed the transition from track life to their new careers.
CANTER is a 501(c)(3) Tax Exempt Non-profit organization; your donations are tax deductible.
Donate
to CANTER Michigan
and help Thoroughbred athletes transition to their new lives.

JOIN the CANTER TEAM of VOLUNTEERS!
Equine Professionals, Business and Marketing professionals, University Equine Club members, POLO Club members, 4-H members…all volunteer with CANTER. YOU can help Thoroughbreds find new careers and new homes!
Volunteer Duties include:
Marketing and Public Relations — TELL A STORY! Write an article about CANTER Thoroughbreds and post it to your Facebook page – share with others. "Share" CANTER Michigan Facebook posts with your friends! CANTER logo t-shirts, sweatshirts, Caps and 2015 Calendars will be sold at Horse Expos and Hazel Park Raceway fundraisers – email if you'd like to help! cantermichigan[at]canterusa.org.
Fund Raising — Have a fundraising idea? For example, would you like to organize a trail riding fundraiser? Or what about a "Casual Friday" Fund for CANTER? We'd LOVE to hear your ideas for fundraisers to help CANTER thoroughbreds! Contact: cantermichigan[at]canterusa.org
Many more volunteer opportunities exist — Please contact CANTER and introduce yourself and your ideas! cantermichigan[at]canterusa.org.
We value our volunteers!
We are a 100% volunteer organization with no paid staff. All funds are spent on Thoroughbreds. Perhaps there is an area where your talents can help! Please fill out the Volunteer form on this page and indicate the type of volunteer work you are interested in. We look forward to hearing from you.
About Us
CANTER is a non-profit organization that began in 1998 in Michigan to help Thoroughbred racehorses find new homes and careers by listing them for sale on CANTER's website for public purchase.
Since 1998, CANTER has become a nationwide success finding new careers and homes for more than 25,000 retiring racehorses. CANTER has expanded to 16 affiliates nationwide with more in the starting gate.
In addition, CANTER has a retraining program that takes ownership of the horse and provides veterinary assessments and treatments, farrier care, equine dental work, vaccinations, rehabilitation–learning to live on a farm and in a herd, retraining for a new career, and adoption by a CANTER-approved adopter.
CANTER training farms are Willowbrooke Farm, Jennifer Blades, in Plymouth and Stapleton Farm, Ruth Hill Schorsch, in Leslie.
Mission: CANTER is dedicated to providing Thoroughbred ex-racehorses opportunities for a NEW life, home and career through rehabilitation, retraining and rehoming.
CANTER has a non-paid, volunteer staff. Every donated dollar is spent to help Thoroughbreds make successful transitions into new careers and new homes.
Adopters are pre-approved by CANTER. The adopter's riding skills and potential riding discipline help CANTER to match them with the right CANTER thoroughbred.
CANTER is one of the few racehorse aftercare organizations to accept injured Thoroughbreds and provide life-saving surgeries at Michigan State University followed by months of rehabilitation then retraining for new careers.
CANTER rehab farms are Wood Show Horses, Cathy Wood, in Mason and Hamilton Ridge Farm, Carrie Thorne, in Leslie.
Veterinary students at MSU receive an advanced education as they assist with all aspects of arthroscopic surgeries on CANTER Thoroughbreds.
CANTER uses accredited privately-owned equine facilities for boarding, rehabilitation and training—investing an average of $700 a month per horse and $6,000 before the horse is adopted.
Financial support for CANTER's program is received from Individuals, Foundations and Equine Organizations. Donations pay for surgery, transport, feed, board, training, veterinary and farrier care.
CANTER Thoroughbreds excel in new careers such as Eventing, Hunter, Jumper, Polo and in Dressage and Recreational Riding. Some have graduated to special careers in Mounted Divisions of Law Enforcement or Therapeutic riding. They enjoy long lives with loving families because of the CANTER program.
CANTER Michigan Board of Directors
Executive Director/Treasurer, Robbie Timmons
Vice President, Michelle Kryszak
Secretary, Karen Seghers
Director, Loraine Hudson
Director, Janet Salisbury
CANTER Michigan Volunteer Board
Volunteer, Nancy Kuha
Volunteers, Jenna Ogrizovich
Volunteer, Deb Copeman
Volunteer, Elyse Goran
Volunteer, Laurie and Kearra DeJack
Volunteer, Jennifer and Torie Jacobs
Volunteer, Stephanie and Kelsey Center
Volunteer, Jackie Secinaro
Volunteer, Emily Berger
Volunteer, Jim Brandstatter
Volunteer, Ray Seghers
Volunteer, David Kryszak
CANTER Michigan is accredited by TAA (Thoroughbred Aftercare Alliance). TAA establishes very strict requirements that must be met or exceeded by an equine organization in order to receive TAA accreditation.
CANTER Michigan has again achieved recognition for excellence in Thoroughbred Aftercare with it's program of rehab, retrain, rehome and has received TAA Accreditation. CANTER Michigan, its training and rehab facilities have met and exceeded TAA requirements.
CANTER Michigan is proud to acknowledge the continued support of Thoroughbred Charities of America and pleased to announce that TCA is recognizing the successful program of CANTER Michigan by awarding a generous grant in 2016.  THANK YOU to TCA – and THANK YOU to EVERYONE who volunteers, contributes and supports CANTER Michigan!
CANTER Michigan appreciates the continued support of ASPCA in recognizing CANTER Michigan's successful program by awarding a generous grant to help in transitioning Thoroughbreds through CANTER's program of rehab, retrain, rehome.
CANTER Michigan
8619 Edgewood Park Drive
Commerce Township, MI 48382