Pennsylvania Horses
Browse listings of Thoroughbred ex-racehorses that are available from CANTER Pennsylvania.
Resources
Click on a button below to find resources to help you in finding, adopting, and caring for Thoroughbred ex-racehorses.
CANTER could not do any of it's amazing work without you!
CANTER exists solely on donations and volunteers. Every dollar and hour donated goes to help these horses get proper medical care, a comfortable place to stay, a full belly, and tools to speed the transition from track life to their new careers.
CANTER is a 501(c)(3) Tax Exempt Non-profit organization; your donations are tax deductible.
Donate
to CANTER Pennsylvania
and help Thoroughbred athletes transition to their new lives.

We need you!
CANTER is a 100% volunteer organization and is always in need of volunteers to help retiring Thoroughbred racehorses transition into new careers.
Contact us to learn more about how you can help!
About Us
CANTER PA is a non-profit organization dedicated to rehoming retiring racehorses through a free listing service offered to race trainers and owners. We strive to create a bridge between the race industry and the sport horse industry to assist in placement of ex-racehorses into quality sport and pleasure homes.
CANTER PA is based out of Penn National Racecourse, but also lists horse at PARX as well as various farms throughout Pennsylvania.
Julia Chain with a friendly track resident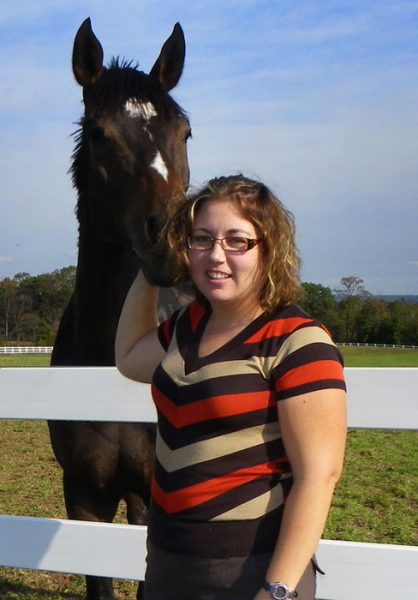 Sue Smith, Executive Director with CANTER PA Alum, Blue Eyes Doyle
CANTER PA Alum, Alex's Signal
What is CANTER?
CANTER is an acronym for The Communication Alliance to Network Thoroughbred Ex-Racehorses. The program began as a solution to help racehorses find new careers by connecting buyers and sellers through posting racehorses for sale on the internet. The program quickly became a national web-based phenomenon. Since the first CANTER Michigan program started in 1997, we have expanded to twelve affiliates across the country . We are an all-volunteer run organization with 501c 3 non-profit status.
CANTER Pennsylvania
445 Spangler Road
New Oxford, PA 17350